classes are canceled today, Tues, nov 12th
Emails will be sent with updates for both starting and continued classes. Be safe!
CLASSES FOR EVERYONE! ALL AGES, ALL TOWNS, AT CVUHS IN HINESBURG, VT
WE PROVIDE A DIVERSITY OF LEARNING OPPORTUNITIES FOR PEOPLE OF ALL AGES AND FROM ALL TOWNS. EXPLORE, FEED NEW PASSIONS, TASTE NEW CUISINES AND CONNECT WITH VERMONT NEIGHBORS AT ACCESS CVU.
EXPLORE OUR GROWING LIST OF CLASSES DESIGNED TO ENCOURAGE AND INSPIRE LIFELONG LEARNERS!

NEW ONLINE REGISTRATION
POWERED
BY ELEYO
To create an account click
"Sign In" at the top right corner of THIS page or click the below link.
BROWSE BY CATEGORY OR KEY WORDS
Classes listed by CATEGORY or search by KEY WORDS!
SECURE ONLINE PAYMENT & CONFIRMATION
Add classes to your cart, check-out and receive a confirmation!
Important!
After creating an account, add your class(es) to the shopping cart and complete the check out process. If you do not receive a confirmation email please contact us.
If a class is not listed online, it has been canceled. Please call us for more information.
Please IGNORE Section 3, "Helpful Info," of the questionnaire as it pertains to Federally funded school age programs only. ONLY FIELDS WITH A GOLDEN STAR ARE REQUIRED. Thank you!
ARE YOU STUCK? GET IN TOUCH!
Have questions about the classes? Need Help in Setting up your Account?
access@cvsdvt.org or 802-482-7194
ACCESS Vacation Dates
11/25 - 11/29 Thanksgiving break
12-23 - 01/03 Holiday break

CVU CRAFT FAIR INFO
When: November 30th Time: 9am-4pm Where: CVU High School 369 CVU Road, Hinesburg, VT 05461
What: 150+ VENDORS, FREE ENTRY, FREE PARKING, AND GOOD EATS!
Contact Us: cvuvenue@cvsdvt.org or 482-7194. Vendor spaces still available for November!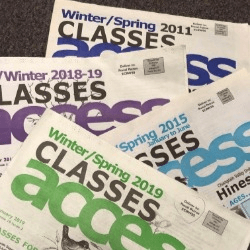 Program Directors: Eddie Krasnow and Laura Howard

Program Support: Liz Heun and Jennifer Morton

Evening Support: Heather Barone, Sharon Ogden, Mary Stearns, Mike Egan, Pam Gover

Craft Fair Support: Carol Fox

Production Support: Janice Heilmann

CVUHS Administrator: Adam Bunting